3 Killed, 2 Injured In Crash On I-95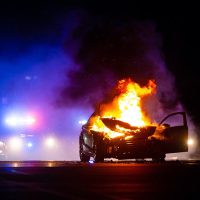 Drivers need to be in control of their vehicle at all times. When they lose control, they can cause serious injuries to themselves and others.
Sadly, this was what recently happened in Miami. Three people were killed in a fiery crash on Interstate 95. The fatal crash occurred on the morning of January 1.
A Nissan Altima was traveling north on Interstate 95, near Northwest 95th Street, when it lost control. It collided with a Dodge Challenger and then drove off the road onto a grassy area. It ended up on the right shoulder, where it crashed into a tree. The Nissan then caught fire, becoming completely engulfed in flames.
There were five people inside the Nissan. Three of them got caught inside the fire and died. The other two passengers were ejected, landing on the ground outside. They were taken to Ryder Trauma Center, where they are currently in critical condition. The crash is under investigation.
Two Good Samaritans found the car on fire on the side of the interstate. They had just left a New Year's Eve concert when they stopped to help. They spotted a woman who was cut and bleeding. She pleaded for help and told the two that there were four more people inside the vehicle.
The Good Samaritans found another woman face-down in the bushes. She was motionless at first, but the Good Samaritans woke her up and moved her away from the fire.
The northbound lanes of Interstate 95 were shut down at Northwest 79 Street for five hours.
Loss of Control
Loss of control was cited as the reason for the crash. A driver can lose control of their vehicle in various ways. Poor weather conditions are a major factor. Rain, ice, and snow can cause vehicles to slide off the road and hit trees or other vehicles.
Some other causes of loss of control include brake failure and mechanical problems. When a tire suddenly goes flat, the steering wheel stops turning, or the brakes no longer work, the vehicle can lose control. This can be a scary situation for drivers. Here are some things you can do if it happens.
Don't panic. You can't let fear take over because you need clear judgment to take control of the situation. Instead, remain calm.
Avoid braking too hard. Avoid slamming the brakes. This makes the car more likely to slide out from under a driver and respond more dangerously.
Steer in the opposite direction. Slowly steer the vehicle until you regain control. Do this by moving the vehicle's steering wheel in the direction you want to travel. Using too much force can cause even greater loss of control.
Seek Help for Your Personal Injury Case
Loss of control can lead to deadly accidents. If you or a loved one has been a victim, make sure you get the compensation you deserve.
The Dade City & Zephyrhills auto accident attorneys from Madonna Law Group will be there for you from the very beginning of your case through the end. Call (800) 557-0411 or fill out the online form to schedule a consultation.
Source:
nbcmiami.com/news/local/3-killed-2-critically-injured-in-fiery-crash-on-i-95-in-miami-dade/2941019/