Signs of Nursing Home Abuse or Neglect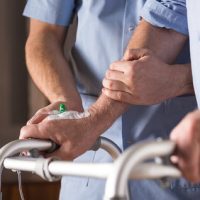 Approximately 40 percent of American adults will live in a nursing home at some point in their lives. Most of these nursing home residents will be well cared for, but unfortunately some will be abused or neglected. In fact, reliable nursing home abuse statistics indicate that more than two million cases of nursing home elder abuse are reported annually. Therefore, it is important that everyone who comes in contact with nursing homes or their residents understands what constitutes nursing home abuse and neglect and is aware of the warning signs commonly associated with each.
Common Types of Nursing Home Neglect

Nursing home neglect is often defined as the failure to care for a person in a manner that would avoid them harm and pain. Active neglect occurs when nursing home staff intentionally fails to take care of a patient's needs, while passive neglect is an unintentional failure to adequately care for a parent. Common examples of nursing home neglect involve:
Ignoring a resident's call for help,
Lack of toileting,
Failing to maintain a resident's hygiene,
Lack of assistance walking,
Incorrect body positioning,
Leaving a resident alone or isolating them for an extended period of time, or
Failing to adequately provide for a resident's physical and emotional needs.

Common Types of Nursing Home Abuse

Abuse occurs when a caregiver intentionally causes a resident in their care harm or pain. Nursing home abuse typically takes one of four forms; physical abuse, emotional abuse, financial abuse, or sexual abuse. Examples include:
Hitting, pinching, force feeding, or shoving a resident,
Berating, ridiculing, or threatening a resident,
Stealing from a resident or forcing them to sign a will or deed, or
Improperly touching a resident or coercing them to perform sexual acts.

Warning Signs to Look Out For
Signs of nursing home abuse or neglect often include:
Broken or fractured bones,
Unexplained bruising, cuts, or welts,
Bed sores,
Frequent infections,
Signs of dehydration,
Emotional outbursts or uncharacteristic mood swings,
Refusal to speak,
Pulling away socially from friends or family members,
Refusal to take medications or to eat,
Unexplained weight loss or gain,
Poor hygiene or general lack of cleanliness,
Changes in mental status, or
Caregivers who do not want others to be left alone with a patient.
What to Do If You Suspect Nursing Home Abuse or Neglect
If you suspect that a nursing home resident is being abused or neglected their safety should be your first priority. If someone is in immediate danger dial 911, otherwise, immediately report your suspicions to the Florida Department of Elder Affairs by calling their abuse hotline at 1-800-96-ABUSE (1-800-962-2873). Keep in mind that you do not need proof of abuse or neglect in order to file a report, your suspicion is enough for the department to launch an investigation.
Once the nursing home resident is safe, you can then turn your attention to addressing the legal situation at hand. If the abused or neglected resident was injured due to their caregiver's negligence, recklessness, or intentional acts it may be in their best interest to file a personal injury lawsuit in order to recoup their losses. While a financial settlement will not fully make up for a resident's suffering, it can pay for needed medical care, rehabilitation, and other expenses that the victim incurs as a result of being abused or neglected. If you or a loved one is interested in pursuing a personal injury claim, contact the Madonna Law Group today at (800) 557-0411 to schedule a free initial consultation with one of our experienced Florida personal injury lawyers.
Resource:
elderaffairs.state.fl.us/doea/report_abuse.php