When a Car Crash is Caused by a Medical Condition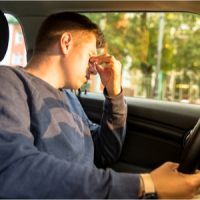 You might have seen vehicles suddenly veer off the road or crash into something for no apparent reason. These car accidents may have been caused by a medical emergency. Some motorists have chronic medical conditions that can affect their driving. The most common ones are epilepsy and diabetes, which can cause seizures and loss of consciousness, respectively. When a person experiences these medical issues while driving, the risk of a crash increases. It is believed that approximately 20% of crashes are caused by medical issues. Drivers with epilepsy, diabetes, cardiovascular disease, mental illness, and alcoholism averaged twice as many crashes as those without these medical conditions.
Common Medical Emergencies 
Diabetes and epilepsy are two conditions that are of significant concern when it comes to traffic safety, since both can cause sudden health changes that can significantly impact driving. However, there are other medical emergencies that can occur while driving, including the following:
Low blood sugar can cause diabetics to suddenly become dizzy. Other conditions, such as vertigo, can also cause dizziness. When a driver is dizzy, they may feel confused and even unable to sit up and continue driving safely.
Loss of muscular control. A stroke or a nerve condition can cause a driver to suddenly lose control of their muscles. When this occurs, their arms, hands, legs and/and feet may be affected. This can cause loss of vehicular control.
Loss of consciousness. A driver may faint due to a heart attack, stroke or other medical issues. A person who loses consciousness is unable to control their vehicle, making an accident highly likely.
Extreme pain. A driver may experience sudden chest pain or a headache, which can make it difficult to focus on the road. The vehicle may drift, veer off the road and crash.
Mental changes. Older drivers and others with mental issues may suddenly experience cognitive changes while behind the wheel. This can cause them to lose focus and crash their vehicle.
If a person is eating while driving, they may end up choking, Choking is a serious medical emergency that requires immediate treatment. If the driver cannot get the food dislodged quickly, they risk causing a serious crash and even dying.
Determining Fault in Medical Emergency Crashes
If a driver causes an accident due to a medical emergency, are they considered to be at fault? It depends on the circumstances. Was the emergency due to a pre-existing medical condition? If so, did the driver fail to monitor their condition? If so, they could be liable for the crash, since they deliberately put the lives of others at risk. The insurance company will also look at the severity of your medical condition as well as the damages caused by the crash.
Seek Help for Your Car Accident Case
Car accidents can be caused by a variety of factors. While most are caused by negligence, many are caused by sudden medical issues that cannot always be predicted or avoided.
If you were injured in a car crash, seek legal help from the Dade City & Zephyrhills auto accident attorneys at Madonna Law Group guide. Let us assess your case and help you understand your legal rights. Schedule a free consultation today by calling (800) 557-0411 or filling out the online form.
Resource:
ncbi.nlm.nih.gov/pmc/articles/PMC3217381/
https://www.manderlawgroup.com/myths-about-prenuptial-agreements/